Obituary for Leonor Salas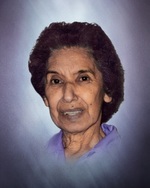 Leonore Hernandez Salas, our beloved mother, age 93, passed away peacefully with her family close at her side. She was a life-long member of the Catholic Church, a dedicated wife, mother, grandmother and great-grandmother. Mom was a hard-working lady who had an unwavering love for her family, our Lord Jesus Christ and Our Lady of Guadalupe.

She was preceded in death by her loving husband, Salvador Salas, Sr.; daughter, Aurora Avila; sisters, Victoria Montoya, Anita Stogden, Juanita Hernandez, and Bonnie Trujillo; and brother, Evaristo Hernandez.

Lenore is survived by her two sons, Salvador V. (Kathy) Salas, and Luis (Sylvia) Salas, Sr.; brother, Paul (Norvel) Hernandez; sister, Benita Leyva; son-in-law, Nacho Avila, Sr; and beloved grandchildren, Paul-Michael Salas, Luis (Martika) Salas, Jr., Alicia (Kevin) Mondragon, Nacho Avila Jr., and Antonio Avila. She is also survived by numerous loving nieces, nephews and great-grandchildren.

All services will be held at Immaculate Conception Catholic Church (705 Delaware St., Alamogordo, New Mexico) on Tuesday, May 9, 2017. A Rosary will be recited at 10:00 a.m., with a Funeral Mass to be celebrated at 10:30 a.m. Interment will follow at the Immaculate Conception Catholic Cemetery, (1301 E. 1st St. Alamogordo, New Mexico). Reception to follow Interment and will be held at the Church Parish Hall. In lieu of flowers, memorial contributions may be made to the Immaculate Conception Catholic Church. Arrangements are being handled by the caring professionals at the Noblin Funeral Service Belen Chapel, 418 W. Reinken Ave., (505)864-4448.